General Manager's Message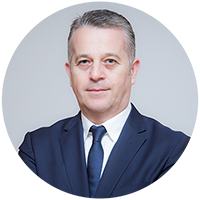 Dear friends,
It is an honour for the entire team working at CiC Automasters Ltd, to be given the opportunity to meet and exceed the needs of Cypriot drivers by exclusively representing the renowned vehicles manufactured by the Fiat Chrysler Automobiles (FCA) Group.
CiC Automasters Ltd responsibly undertakes the sale of passenger and commercial cars and the provision of after-sales services.
The Jeep, Fiat, Alpha Romeo, Abarth and Fiat Professional are world famous brands, all known for developing and manufacturing high performance vehicles with a vast array of safety features, distinctive aesthetics, countless capabilities both on and off road, highly efficient driving with reduced fuel consumption and emissions, as well as premium after-sales services.
CiC Automasters Ltd is a subsidiary of the Cyprus Import Corporation Ltd, which has been a highly reliable choice in the local automotive industry for over 65 years, fostering excellent customer experiences built on absolute respect and consistent quality of service. Its reputation and proven dependability have been directly linked to the sale of passenger cars (new and used) and the provision of first-class after sales services (servicing, spare parts, accessories, auto body repairs).
CiC Automasters Ltd has an island-wide presence, operating in Nicosia, Limassol, Larnaca and Paphos.
CiC Automasters Ltd is passionate about driving the automotive world forward through its quality promise and guaranteed professionalism. We are happy to welcome you to our stores and show you the road to exciting new driving experiences with your brand-new car. Our team is driven by highly trained and fully competent professionals that are eager to cater to your every need and provide consultation to turn your automotive needs into the car of your choice.
Our dedicated customer service picks-up from where the sales process concluded. You will find highly qualified and knowledgeable personnel in our customer service department, as well as well-stocked genuine spare parts that secure fast and reliable service.
It would be our pleasure to meet and assist you at our showrooms, while you discover an extensive range of exceptional models by Jeep, Fiat, Alfa Romeo, Abarth and Fiat Professional. The superior services and solutions we offer, reinforce the continued and growing success of CiC Automasters Ltd, allowing the company to maintain and enhance the momentum needed to effectively respond to the challenges of the demanding and changing Cypriot automobile market.
We thank you for your continuous preference and commit to ceaselessly honouring the trust you show to us.
Donatos Demou
General Manager
CSR
We develop various pillars of socially responsible actions under which we operate, with a clear sense of responsibility towards our customers, partners, society, as well as the state and our staff. We take initiatives based on set standards, with the utmost respect for the values that characterise our culture and our people.
Our main priority is to respect our employees at all times. We make sure we provide them with a safe and healthy environment in which they can work efficiently.
We are consistent in our obligations to all stakeholders, while always aiming to develop constructively efficient, functional and effective partnerships for all parties.
We fully understand our responsibility towards our customers as well as the society in which we operate and work hard to develop conscientious supportive and informative actions.
We invest in the development and strengthening of partnerships with institutions, organizations and government services, with the aim of creating targeted actions that will benefit society as a whole.
Get Exclusive Offers and News*